Utah puts faith in perspective for Carmelite monk
Friday, Jul. 20, 2012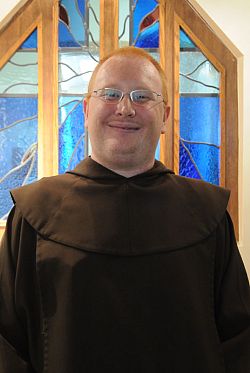 Intermountain Catholic
+ Enlarge
SALT LAKE CITY — A month in Utah has brought a wealth of new experiences for Brother Raymond Bueno, a discalced Carmelite friar from the California-Arizona Province.
"It was a good decision to come here because I'm staying in my province and I get to know a community of Carmelite nuns that I have never met before and experience a different religious culture," said Brother Raymond, who is completing the Clinical Pastoral Education program at St. Mark's Hospital in Salt Lake City. "My work has been primarily with Catholics, so I don't have a lot of ecumenical experience, and St. Mark's offers me that."
Brother Raymond is the first Carmelite to attend the 11-week CPE program at St. Mark's, although members of other religious orders such as Dominicans and Sisters of Mercy have done so, said Episcopal Father Lincoln Ure, the hospital's director of pastoral care.
Brother Raymond "brings his contemplative spiritual practices to pastoral care conversations, and people really appreciate that," Fr. Ure said.
The program is designed to teach participants how to be more pastoral, how to help others identify their spiritual needs and what patients experience as they face life-threatening illnesses, Fr. Ure said.
One requirement for a Master of Divinity degree is a pastoral year or completion of Clinical Pastoral Education program; Brother Raymond chose the CPE.
"The hospital experience you don't usually get in the seminary, so I felt this was an important experience to have before I move into my first assignment outside of the student house," he said.
Brother Raymond grew up in Saint John of the Cross Parish in San Diego, Calif. His paternal grandparents lived with the family, and "my grandmother was really the source of my faith and my initial education as a Catholic," he said.
He remembers being told, as a child, that he should become a priest, but "I just laughed them off," he said.
It wasn't until he was a college freshman that he discerned his call. By chance he read the Rule of Saint Benedict, which got him thinking about the priesthood, he said. He discerned with the Diocese of San Diego, but determined that he wasn't called to be a parish priest, so he started looking at religious orders. At one point he planned to enter the Trinitarians, but then the sisters of his parish suggested he join the Order of the Blessed Virgin Mary of Mercy. He was with the Mercedarians for about a year, he said, but "something deep inside of me always wanted to be a Carmelite.... What I found in Carmel is the perfect balance between prayer and work."
He has always felt called to the Carmelite vocation to teach other Catholics and Christians how to live the spiritual life, he said. "Carmel has offered me a depth of spirituality that I couldn't find anywhere else."
Brother Raymond took his final vows a year ago and was ordained a deacon last October. He will be ordained a priest this coming October in Los Angeles and will be assigned to a parish in Tucson.
His time in Utah "has really helped put my own faith in perspective," he said. "To my great happiness, everyone's been very welcoming and it's given me an opportunity to learn about other Christian faiths in a new way where I'm not defensive, where I take them where they're at and let them teach me."