Veteran's future looks bright despite impaired sight
Friday, Sep. 09, 2011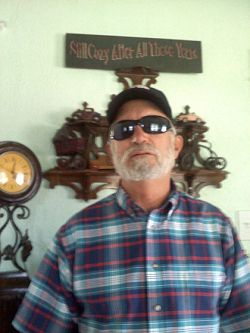 Courtesy photo/Ernie Ferran
+ Enlarge
MONA — The 4th Annual Catholics Can Mass will be celebrated Sept. 24, at Saint Joseph the Worker Parish in West Jordan, to celebrate the many gifts and contributions of each person in Christ. Ministers during the Mass will include individuals with disabilities.
One individual with a disability is Ernie Ferran, who has glaucoma and is almost blind as a result of exposure to Agent Orange during the Vietnam War. Ferran is a member of San Andres Parish in Payson.
"My future looks bright, but I didn't always feel that way," he said. "When the doctor first told me I would lose my eyesight, I was angry."
His wife, Lydia, also felt troubled because she depended on him to do odd jobs around the house and now he depends on her to drive him everywhere.
"I have since learned my husband's blindness has opened my eyes and the eyes of my children and grandchildren to a new way of life, said Lydia Ferran. "The grandchildren know they have to pick up their toys, and the furniture and things in the cupboards and refrigerator must always be in the same place."
Ernie Ferran believes his faith has helped him from the time he was in Vietnam to now. "I'm sure it's through my faith that I'm even alive today," he said. "I strongly believe in my religion. I took the rosary beads my godfather gave me at my confirmation with me to Vietnam. I carried them with me for the 14 months I was there." He lost the rosary on the flight home from Vietnam.
Ferran grew up in Springville, Utah. In 1968, when he was 19 years old, he was drafted into the Vietnam War.
"I felt fear and was leery of the war when I was drafted," he said. "It was a time when the hippie movement was saying 'Make love not war,' and there was a lot of social unrest. I had mixed feelings about the war; what was going to happen. When I came home, people weren't receptive to veterans, and many veterans had post traumatic stress disorders."
While in Vietnam, Ferran was a demolition expert with the First Infantry Division. Working on the Cambodian border on Black Virgin Mountain and Thay Nihn City, he was exposed to Agent Orange.
"I knew it was a defoliant, but didn't really know what it was," he said. "We sprayed it to kill the vegetation along the riverbanks," he said. "We worked, hiked and rested where it had been sprayed; it got all over our clothes."
Ferran's heart condition is related to his exposure to Agent Orange. He had his first heart attack in 2001. Also attributed to Agent Orange are the neuropathy in his legs and the blockages in some of his arteries. In 2005, he was told he would lose all of his vision.
"When I started going blind, I went to a veteran's rehab center in Palo Alto, Calif., he said. "They helped me adjust mentally to the fact that I was going blind and taught me Braille and other skills I had that I had never used."
Through all of this, Ferran said Father Joseph Rooney, pastor of San Andres Parish, counseled him and his family.
"He helped me with my transition and had the Xavier Society for the Blind in New York get in touch with me," said Ferran. "They send me the Mass propers every month and that encouraged me to return to being a lector."
Ferran has always been active in the parish, holding many positions including being a member of the Knights of Columbus.
Before losing his eyesight he was a systems engineer and owned his own company.
"What I thought was a disability has turned into a gift from God to be able to help other veterans," he said. "With the support of my wife, I help other veterans find resources for adaptation equipment through the Blinded Veterans Association."
4th Annual Catholics
Can Mass
When: Sept. 24, at 2 p.m.
Where: Saint Joseph the Worker Parish, 7405 S. Redwood Road, West Jordan.
All are invited to join.