Vicki Mori, Guadalupe School's executive director, retires
Friday, Jun. 19, 2015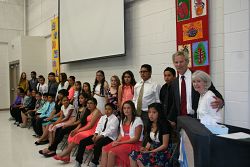 Intermountain Catholic
+ Enlarge
ROSE PARK — Salt Lake City Mayor Ralph Becker proclaimed June 11 "Vicki Mori Day" in honor of Mori's 10 years as the executive director of the Guadalupe School; she will retire in August.
Becker, in the proclamation read June 11 during the Guadalupe School's first sixth-grade graduation, said Mori has "always believed education is the greatest tool to fight the cycle of poverty, she has dedicated her nearly four-decade career to serving students, families and communities through education; in 2014, under Mori's leadership, the Guadalupe School moved from a 13,000-square-foot building on Goshen Street in Salt Lake City to a new 50,000-square-foot campus in Rose Park; and in Mori's commitment to service and providing quality education for children and adults, she has created opportunities for success and strengthened communities."
The Guadalupe School's annual gala in April honored Mori, her leadership and her service to the Salt Lake City community. Proceeds from the gala went to the school's Early Learning Center and the Adult Education program for adult English as a Second Language, family literacy and citizenship classes.
Guadalupe School students are all from low-income families; 94 percent are minority and 64 percent speak English as a second language.
The dream of the Guadalupe School began in the 1960s when the Guadalupe Center opened at 300 West 100 South in Salt Lake City, recalled Mori.
The Guadalupe Center became a place for Mexican-American families and the "La Morena Café opened at the Guadalupe Center to provide seed money for mission programs; out of that, a fund for Guadalupe School was started," Mori said. "The people never walked away from this project; they always helped us in some way. Every day we take people on tours of this new facility who remember the restaurant."
Mori, a 1970 graduate of Saint Mary of the Wasatch High School, accepted a position as a physical education teacher at Guadalupe School on Goshen Street while she was a sophomore at the University of Utah studying health science.
Mori also met Father Jerald Merrill, "who believed we could make a difference if we pulled people together; we have always tried to keep those people who have been longtime donors together," she said.
In 1976, Mori became head of an adult day care program at Neighborhood House.
"I loved working with older people; I worked there for seven years before becoming the executive director for 19 years," she said. "I then became the executive director of Guadalupe School in 2005."
The mission of Neighborhood House is similar to that of the Guadalupe School – to eliminate poverty through education, said Mori.
"Vicki has always been the heart of Guadalupe School," said Jack Elizondo, Guadalupe School board president. "She had a vision of what she wanted the school to become, and the ability to enable others to feel her passion and to see that vision to fruition. Her natural affinity for people, her dedication and her leadership capabilities always made others want to follow her dream for children to escape poverty and reach their full potential through quality education.
"There have been a lot of challenges, but I have never looked back," said Mori, who has received such honors as the Community Impact Partner of the Year in 2005, the Architect of Change Award in 2001, a Bridge Building award from the University Neighborhood Partners in 2006 and an Outstanding Service Award from Catholic Community Services.
"It was my job to build the school and after asking for donations and getting the school off the ground, we have a very unique program," said Mori. "We knew we needed to go to the sixth grade and we knew we needed a bigger space, and we met those expectations. We raised the $10 million and we have no debt; we opened the doors in 2014. When we moved from Goshen we had 139 students, and today we have 253."
Beth Branson, Guadalupe School development director, respects that "Vicki's door is always open to the families; she is close to them, offers them comfort and they love and respect her," she said.