Visiting priest signs Mass for diocese's Deaf community
Friday, Jul. 06, 2012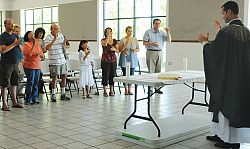 Intermountain Catholic
Photo 1 of 2
SALT LAKE CITY — The Diocese of Salt Lake City's Deaf community enjoyed a special visitor the weekend of June 30 when Father Shawn Carey, director of the Deaf Apostolate for the Archdiocese of Boston, celebrated two Masses and gave instruction to adults and children.
Fr. Carey, who was ordained a priest three years ago and is deaf, said many Deaf Catholics don't feel as though they have access to the church. "They feel isolated within a whole church of all these hearing people," he said through interpreter Carol Ruddell, who is secretary for the Diocese of Salt Lake City's Commission for People with Disabilities.
Ruddell was the interpreter for all the people interviewed for this article.
At his home parish of Sacred Heart in Newton, Mass., Fr. Carey celebrates a weekly Sunday Mass in American Sign Language. "Many Deaf people will come to that Mass, and then after Mass we have a social time, so many drive an hour or even 90 minutes to come to Mass," he said.
By contrast, Utah's Deaf Catholics are visited about once a year by a priest who knows sign language, Ruddell said, although American Sign Language interpreters are available in the diocese.
"Wow!" was the reaction of members of the local Deaf community to Fr. Carey's visit.
"When I have an interpreter, that's OK, but when it's a Deaf priest, he explains everything so clearly," said Arthur Valdez, a Saint Catherine Siena/Newman Center parishioner. "You learn a lot. I'm just in awe, understanding everything. It's just a wonderful Mass. When I have an interpreter, that's fine, that's OK, but this way we can watch the face of the priest who is celebrating Mass."
Ruddell also arranged for Fr. Carey to celebrate the first penance for deaf children in the diocese. She expected several children, but only one came.
Nadia Suarez, a parishioner of Saint Mary of the Assumption in Park City, said she was excited to celebrate her first penance, although she doesn't know how she will celebrate the Sacrament of Reconciliation in the future, because no priest in the Diocese of Salt Lake City is adept at sign language.
"Oftentimes the Deaf are forced to use pencil and paper" when they go to confession, Ruddell said. However, the U.S. Conference of Catholic Bishops is revising its directives regarding the use of technology, and she anticipates that with the revision the Deaf community will be able to use technology such as iPads for the Sacrament of Penance, she said.
About a dozen adult members of the Deaf community attended Fr. Carey's class on June 30. Among them was Anita Archuleta, a Saint Vincent de Paul parishioner, who said she was looking forward to having Fr. Carey discuss the revised language of the Nicene Creed and other changes that came about last year with the implementation of Third Edition of the Roman Missal.
"I think it's better if I learn it together with Father," Archuleta said, adding that it was wonderful to have a Deaf priest celebrate Mass even though his signing was a little different than she is used to here in Utah.
Nevertheless, she said it was easier for her to get into the spirit of the Mass with a Deaf celebrant because the communication was directly with him rather than an interpreter.
Wally Sibson, another Saint Vincent de Paul parishioner, agreed. "Hearing priests are fine, but a Deaf priest is just like me. He understands us," Sibson said. "We have the same experience. It feels much more comfortable and I understand better."