Webinar to offer information on Catholic Relief Services programs
Friday, Jan. 14, 2022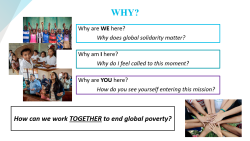 Courtesy photo
Photo 1 of 2
SALT LAKE CITY — During the Christmas season, many Utah Catholics were generous in their donations to help the poor and the needy. As a new year begins, some may be wondering how they can continue those efforts in an ongoing, meaningful way. An upcoming online information session from Catholic Relief Services may provide the tools they are looking for.
The U.S. Conference of Catholic Bishops founded CRS in 1943 to help European survivors of World War II. Since then, the organization has become a leading international humanitarian agency, providing relief to millions of people in 115 countries worldwide. Although CRS is known for providing emergency aid, it also offers educational programs in agriculture, education, health, justice and peace building, microfinance, water and sanitation.
CRS will present a Zoom session that will share information about the organization's work and opportunities for individuals to join in the movement to end global poverty. More specifically, they will provide information on the organization's Lead the Way campaigns, which address world hunger and migration.
"We've recognized that our world is at a very pivotal moment in history, where millions of people around the world are experiencing poverty, hunger [and] violence, and are faced with a lot of other challenges to their human dignity," said Marcos Guerrero Martinez, CRS' community engagement manager. "Especially living in a time of pandemic, it's a really challenging time we're trying to work in, to work with our brothers and sisters to alleviate hunger, get their medications that they need for Covid, their vaccines, masks, even basic sanitation to wash their hands."
The Zoom session also will provide information on how to organize CRS chapters at the parish level and clubs at Utah high schools. Specific training in advocacy and fundraising will be given.
While CRS has offered similar Zoom sessions in the past year, this is only the second time that the southwest area, of which the Diocese of Salt Lake City is a part, has participated, Martinez said.
The sessions are intended to help people learn global solidarity around the world, and how those who attend can reach out to "our most vulnerable brothers and sisters around the world," he said.
Martinez encourages Utah Catholics to support CRS in its efforts to build transformative change and make an impact in people's lives. "We're trying to help people to really live out their faith in action," he said.
He also expressed appreciation for the support of the diocese, Bishop Oscar A. Solis and Utah Catholics. "People there have been very gracious and generous and are helping us to reach out to our brothers and sisters around the world," he said.
Jean Hill, director of the diocesan Office of Life, Justice and Peace, encourages local Catholics to participate in the information session, which will be "an easy and informative way to connect with the work CRS does on our behalf," she said. "Hearing the stories of CRS efforts to build communities using the skills and talents of the people within those communities provides a unique opportunity for faith formation. This short session invites us to learn how Catholics are impacting the lives of millions, and how we can be part of that effort. CRS is globally recognized as a leader in works of both charity and justice. Don't miss this chance to more fully live your faith."
"Catholic Relief Services is our way to live our baptismal call to solidarity with our brothers and sisters living in poverty globally," she added. "Through their incredible work overseas, we build a better world, address root causes of poverty and migration, and protect the dignity and sanctity of life on an international level."
WHAT: CRS Information Session
WHERE: On Zoom
WHEN: Jan. 18, 5:30 p.m.
Free. Register and participate at https://crs-org.zoom.us/meeting/register/tZMpfuiurTMiGdU-77WAUOe5Onve9YkHpaC6