William "Bill" Espinoza
Friday, Nov. 29, 2019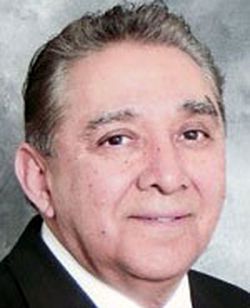 Intermountain Catholic
+ Enlarge
William "Bill" Espinoza, 79, passed away with his wife by his side at their home on November 20, 2019, after a second bout of cancer.
Born in Los Angeles, California, in 1940, Bill moved to Albuquerque as a young man, where he lived for 10 years. It is there that he met his wife of 57 years, Marcella Espinoza (nee Montoya).
In Albuquerque, Bill was involved in the entertainment industry as a radio DJ, and later moved his family to Salt Lake City, Utah, where he helped to start a public radio station and worked as a banker before opening the Navajo Hogan Restaurant, which he ran for 30 years. Until his very last days you could find him at the restaurant talking to customers, new and old.
Bill loved sports of all kinds, and was an avid Los Angeles Rams and Utah Jazz fan. He and his wife loved to travel, and they shared many fond memories together. Bill was very active in his community, including running for mayor of South Salt Lake. He and his wife attended St. Ann Catholic Church. Bill was always helping the homeless, and during the holidays, he donated clothing to the Salt Lake Rescue Mission.
Bill is survived by his wife, Marcie; his two boys, Aaron and Marcos; his daughter-in-law Kelly; two grandchildren, Camila and Daniel; extended family, Bernard Montoya, Bernice (Mel) Archuleta, Don (Irene) Montoya and Rey Montoya; and many nieces and nephews.
A funeral Mass was celebrated November 27 at Saint Ann Catholic Church.
In lieu of flowers, please consider a donation to the Salt Lake Rescue Mission, https://rescuesaltlake.org.