Winners of the diocesan Respect for Life Youth Contest
Friday, May. 20, 2022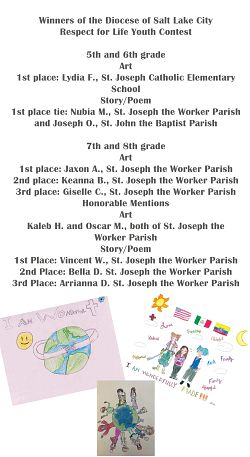 + Enlarge
SALT LAKE CITY — The inaugural Diocese of Salt Lake City Respect for Life Youth Contest drew 11 entries from students at Saint Joseph Catholic Elementary School in Ogden and from the religious education formation programs at Saint John the Baptist Parish in Draper and Saint Joseph the Worker Parish in West Jordan. The students submitted original artwork or a story/poem for the contest celebrating life.
"To receive this participation was so great," said Crystal Painter, director of the diocesan Office of Marriage and Family Life.
Painter, along with Catherine Stokes, chairperson of the diocesan Respect for Life Commission, designed and judged the contest.
The contest was intended "to celebrate our unique dignity as human beings … to celebrate the wonder of a tiny human being, and the miracle of life as we grow and progress along our path to God," Stokes said.
The contest was open to students in grades five through eight, with categories in artwork and poetry/short story. The theme was "I Am Wonderfully Made." The call for entries came in early March and the deadline for submissions was March 31.
"Because it is the first youth contest that we have done like this we were not sure what the response would be," said Painter, adding that she is grateful to all the participants.
"Seeing the work – seeing how these amazing young people share their hearts and their opinions, to see their amazing stories and artwork. It is really wonderful," Painter said.
The entries were divided by age group as well as by category. The judging criteria included how well the submissions showed respect for human life, whether they exhibited an understanding of the theme, creativity and artistic skills or written skills, depending on the category, Painter said.
That all life is important "should be something that we know in general, but right now especially it is a great time to help our youth understand the importance of life, our Catholic teachings from conception to natural death," Painter said. "It is so important that they understand that each and every one of us was created by God and God loves us all equally – we all have value no matter what the circumstances are."
For all children to know how much value they have as an individual and as fellow students it is extremely important, she added.
The contest will be an annual event, she said.
"I think doing something like this also allows kids to express themselves and to express what life means to them, and I think is beautiful and it gives us the opportunity through the schools and religious educations programs and formation to help the teachers to see where the kids are in terms of respect for life in their own view and way," Painter said.
"We are all made in the divine image," Stokes added. "Each one of us has incredible value in the eyes of God. Our dignity begins at the moment of our creation because we are all children of God."
Winners of the Diocese of Salt Lake City Respect for Life Youth Contest
5th and 6th grade Art
1st place: Lydia F., St. Joseph Catholic Elementary School
5th and 6th grade Story/Poem
1st place tie: Nubia M., St. Joseph the Worker Parish and Joseph O., St. John the Baptist Parish
7th and 8th grade Art
1st place: Jaxon A., St. Joseph the Worker Parish
2nd place: Keanna B., St. Joseph the Worker Parish
3rd place: Giselle C., St. Joseph the Worker Parish
7th and 8th grade Art Honorable Mention
Kaleb H. and Oscar M., both of St. Joseph the Worker Parish
7th and 8th grade Story/Poem
1st Place: Vincent W., St. Joseph the Worker Parish
2nd Place: Bella D. St. Joseph the Worker Parish
3rd Place: Arrianna D. St. Joseph the Worker Parish