Young adults gathering to offer theology, prayer and fun
Friday, Sep. 13, 2019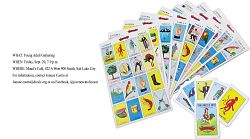 + Enlarge
SALT LAKE CITY — The Diocese of Salt Lake City Office of Youth and Young Adult Ministry is presenting "Lottery and Theology," a monthly series that will include prayer, sharing, entertainment and learning geared for those age 18 and older.
The first event will take place on Sept. 20 in Salt Lake City. Fr. Omar Ontiveros, pastor of St. Ann Parish, will present "Theology 101."
Lottery and Theology was born as an initiative to connect with Catholic young adults, especially those who are Hispanic, said Junuee Castro, director of the Youth and Young Adult Ministry.
The event is planned to be conducted in Spanish but Fr. Ontiveros is bilingual, and "we are open to having it bilingual," Castro said. "The purpose is to accommodate the needs of our young adults."
The evening will start with an icebreaker to introduce participants to each other.
"It is a moment that we can get to know each other and have a good time as well as learning more about our faith," Castro said.
Sharing, learning together, fellowship and a good time is what those attending Lottery and Theology can look forward to.
Some of the challenges that young adults face are that they "have been captivated by the consumerism and materialism of the society in which they grew up and have become apathetic and cynical," according to the United States Conference of Catholic Bishops. "Young adulthood is sometimes a world of boredom, disillusionment and indifference to the Church. They need a non-threatening place where they can freely express their questions, doubts, and even disagreements with the Church and where the teachings of the Church can be clearly articulated and related to their experience. Young adults make some of the most important decisions in their lives about their Christian vocation, their career, and their choice of spouse."
Inviting the participation of all young adults in the diocese, Castro said, "It is very important that our young adults know and feel that we care, and this event is designed especially for them."
Lottery and Theology is free but limited space is available.
The venue for the event, Maud's Café, offers an employment training program for the youth from Volunteers of America, Utah's Homeless Youth Resource Center and young men's and women's transition homes.