Youth from St. John the Baptist Parish help flood-impacted community in Montana
Friday, Jul. 29, 2022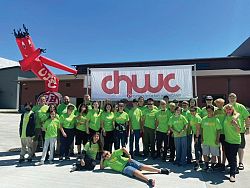 Courtesy photo
+ Enlarge
DRAPER — Twenty-five youth from St. John the Baptist Parish recently spent a week helping the community of Billings, Mont., recover from flooding that left the community of 110,000 in need.
The youth from the parish in Draper provided aid as part of Catholic Heart Workcamp, an organization that originally had planned to help that community in other ways but, after the flood hit, was glad to assist in any way they could.
While the St. John the Baptist youth group has traveled to participate in summer service projects in the past, this is the first time that they have partnered with Catholic Heart Workcamp, but likely not the last, said Liz Canto, director of youth evangelization for the parish.
After traveling 10 hours on a bus, the youth unpacked their belongings at spartan accommodations at a high school in Billings. Then, each day from June 27 to July 3, they were divided into work teams that visited the local community and worked alongside homeowners scooping out water, sand and debris and performing other flood clean up.
They also put in time at local agencies. At the Montana rescue mission, the youth painted, cleaned, swept and organized the bargain center. At the Boys and Girls Club, when they weren't painting, they hung out with the kids. At the local food bank, they helped organize and clean the premises. In the evenings, they would spend time with each other and other Catholic youth from across the country. They played games, performed skits and joined together in prayer and Adoration of the Blessed Sacrament.
Although it was a lot of hard work, all of the youth seemed to enjoy the experience and came away with new friends, Canto said.
Along with getting the students to engage in service, Canto's primary goal was for the St. John the Baptist kids to meet other Catholics their age. Most of the youth only know other Catholics in their parish, so "it was really beautiful to see a lot of friendships blossom throughout the week," she said.
Father Stephen Tilley, pastor of St. John the Baptist Parish, joined the youth on the mission.
"The beautiful thing about the Catholic Heart Work Camp experience is that it purposely ties together Our Lord in the Eucharist with the washing of the feet," he said. "Our kids did an amazing job opening up their hearts to our Lord and opening up their hands in service to a stranger. From listening to our youth that attended the mission, the experience deepened their faith and trust in God. In addition to all these things, the trip gave our kids an opportunity to meet other Catholics throughout the United States – Wisconsin, South Dakota, Washington, Illinois and Texas, to name a few."
Canto said many of the youth who participated were new to her.
"Hopefully, God willing, they continue to join our community and participate in youth group events," she said. "The kids and even some of the chaperones had a blast and it was really beautiful just seeing the students on the drive back and seeing them throughout the week. You could definitely tell that the Holy Spirit was present."