CCS 2021 Humanitarian Awards Dinner
Friday, Nov. 05, 2021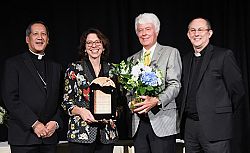 IC photo/Marie Mischel
Photo 1 of 3
SALT LAKE CITY — Hundreds of people gathered to honor those help people in need during the 2021 Catholic Community Services of Utah Humanitarian Awards Dinner, held Oct. 26 at the Great America Hotel.
Among the those attending were the Most Rev. Oscar A. Solis, Bishop of Salt Lake City; Msgr. Colin F. Bircumshaw, vicar general of the Diocese of Salt Lake City; Msgr. J. Terrence Fitzgerald, vicar general emeritus; Elder Kevin W. Pearson, The Church of Jesus Christ of Latter-day Saints President of the Utah Area, and his wife, June; Elder Vaiangina Sikahema, a General Authority Seventy, and his wife, Keala; Bishop Christopher Waddell, First Counselor in the Presiding Bishopric, and his wife, Carol; and members of the clergy from several faiths.
Because of the generosity of donors, 100 percent of the proceeds from the dinner went to CCS programs; in addition, donations up to $25,000 from the dinner were matched by an anonymous donor.
CCS has numerous programs to help people in need in the Salt Lake City and Ogden areas. Among them are the St. Vincent de Paul dining hall in Salt Lake City, which serves 2,000 hot meals each day; and the Bridging the Gap program in Weber and Davis counties, which provides weekend groceries to about 20,000 local school children. In addition, CCS has programs to help refugees as well as those with immigration issues.
In his comments during the dinner, Fr. John Evans, president of the CCS Board of Trustees and pastor of St. Thomas More Parish in Cottonwood Heights, acknowledged that those who support CCS financially and as volunteers are a diverse group. When people come together regardless of their religious affiliation, "we do very beautiful things for God" and help those who are poor and vulnerable, he said.
The 2021 CCS Humanitarian of the Year is Jean Welch Hill, director of the Diocese of Salt Lake City Office Life, Justice and Peace.
"In that role she works hart to advocate with government officials at the state, local and national levels to improve the lives of people immigrants, people living in poverty, inmates and other vulnerable populations – that encompasses every single client that CCS serves, and she is diligent in fighting for policies and practices that protect them," said Carole Mikita, a senior reporter at KSL-TV, who served as the dinner's MC.
Hill, who also serves the greater community as a board member for the Utah International Charter School, the Gun Violence Prevention Center of Utah, the Utah Commission on Criminal and Juvenile Justice, Shelter the Homeless and Salt Lake Valley Coalition to End Homelessness, is a licensed attorney, a certified educator, and the mother of three.
"Jean has been an amazing supporter of the work of CCS and always strives to make our community a better place for everyone," Mikita said.
In her comments after accepting the award, Hill said that she believes it is the collaboration of direct service such as that offered by CCS and advocacy such as her own work that brings lasting change. "Together, all of us here tonight with CCS address the immediate needs of food, clothing and shelter, and through advocacy we address the root causes of poverty that lead people into homelessness and the root causes of political instability and violence that force people to leave their own countries," Hill said.
The 2021 Humanitarians a group of health care workers who were chosen by the hospitals at which they work "as going above and beyond to represent frontline workers across our state," Mikita said.
During the COVID-19 pandemic, "Our health care workers stepped up to a level never seen before to provide comfort and care," she added, putting themselves at risk of exposure, working longer hours, and sacrificing time with their own family. Those recognized were Megan Diehl and Anna Gallegos, University of Utah Medical Center; Nicki Roderman and Laura Malaise, St. Mark's Medical Center; Brandi Campbell and Heather Guinn, Intermountain Healthcare; and Diane Gifford and Christian Campbell, Salt Lake Regional Hospital.
Also recognized at the dinner were Durrell Annis, office manager of CCS Northern Utah, as the 2021 Employee of the Year; and the Brittany and Ryan Atkinson family as the 2021 Volunteer of the Year.
In his closing comments, Bishop Solis thanked the CCS staff, volunteers and the guests at the dinner for partnering with the organization in their mission to make "the Gospel values of love, compassion and hope very much alive. With so much suffering and uncertainty around us, through your collaboration and generous support of the various services that CCS provides, you bring light and hope to our brothers and sisters in need, giving them the assurance that they are not alone, and a better future is there for them. Most of all … you make God's compassion and love become palpable and real in our world."