Home
Intermountain Catholic
SALT LAKE CITY — Each year during Lent, those who are preparing to enter the Catholic Church in the Diocese of Salt Lake City celebrate the Rite of Election and Call to Continuing Conversion, during which the bishop publicly acknowledges God's work in them, and names them as members of the Order of the Elect (candidates for baptism and full communion). During the ceremony, the catechumens inscribe their names in the Book of the Elect. They now will complete their preparations for the sacraments of Baptism, Confirmation and Eucharist, which they will receive at the Easter Vigil. The candidates for full reception, because they have already been baptized, prepare to celebrate the Sacrament of Reconciliation and, at the vigil, will make a profession of faith, be confirmed, and receive the Eucharist.
>>>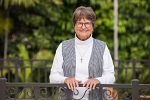 SALT LAKE CITY — Westminster College will present Sister Helen Prejean, CSJ, author of
Dead Man Walking: An Eyewitness Account of the Death Penalty in the United States
, as part of the Tanner-McMurrin Lecture Series.
>>>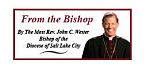 The whole of life is a gift. In all of its beautiful, messy, sometimes seemingly insufferable, sometimes awe-inspiring moments, life is a series of endless opportunities to experience God's immense love for us. Any or all of these moments of grace are lost if we choose to abort life – either our own or someone else's – before it is time, including through such proposals as the ill-named Death With Dignity Act being considered by the Utah Legislature.
>>>