Home
Intermountain Catholic
SALT LAKE CITY — When the Choir of the Cathedral of the Madeleine began performing 25 years ago, they offered one concert at Christmas and another in the spring. Over the years, their offerings have expanded; this year's calendar has seven concerts, including the ever-popular Christmas Carol Service and the Ceremony of Carols.
>>>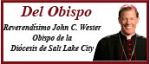 Las reacciones que se han tenido por la Tercer Asamblea General Extraordinaria del Sínodo de Obispos sobre la familia, la cual se sostuvo en Roma del 5 al 19 de octubre, han ido desde sorpresa hasta confusión, de gozo a enojo.
>>>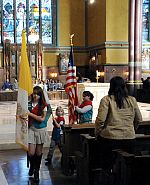 SALT LAKE CITY — One hundred years ago, Cardinal James Gibbons, then Archbishop of Baltimore, endorsed the work of Girl Scouts and their relationship with the Catholic Church, a relationship that remains vibrant today, as was evident by the participation of the National Federation of Catholic Youth Ministry in the 2014 Girl Scouts of the USA National Convention, held Oct. 14-18 in Salt Lake City.
>>>