IC photo/Marie Mischel
WHAT: Bishop's Dinner
WHEN: Sept. 15; reception opens at 6 p.m. Dinner is at 7 p.m.
WHERE: Grand America, 555 S. Main St., SLC
COST: Tickets are $150 per seat; a table of 10 is $1,500
The event will feature Frank Layden as master of ceremonies and Gregory Glenn as the keynote speaker. Anna Campbell Bliss will be honored in memoriam.
For tickets, contact Patricia 801-328-8941 ext. 108 or pwesson@utcotm.org.
>>>
SALT LAKE CITY — In this Extraordinary Jubilee Year of Mercy called by Pope Francis, forgiveness will be the focus of the 2016 Diocese of Salt Lake City Pastoral Congress.
>>>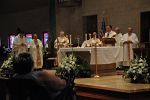 OGDEN — With a host of founding parishioners and three former pastors in attendance, the Aug. 20 golden anniversary Mass at Saint James the Just Parish honored its past and looked forward to the future.
>>>