CCS Humanitarian Awards Dinner to recognize those who help the vulnerable
Friday, Sep. 30, 2022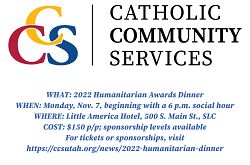 + Enlarge
SALT LAKE CITY — Catholic Community Services of Utah's Humanitarian Awards Dinner this year will be held on Nov. 7 at the Little America Hotel in Salt Lake City.
"Our annual Humanitarian Awards Dinner has multiple purposes," said Maresha Bosgieter, CCS development director.
The dinner honors individuals and organizations that support and help the most vulnerable in the local community. It also gives CCS an opportunity "to express our appreciation to some of those individuals and groups who have certainly gone above and beyond in helping us focus on our mission," she said. "It provides us with an opportunity to showcase the amazing work we are currently doing, and it's our largest fund-raiser of the year to support all of our programs and those we serve."
CCS operates the St. Vincent de Paul Dining Hall and Weigand Homeless Resource Center, both in Salt Lake City, and the Joyce Hansen Hall Food Bank in Ogden. In addition, the organization operates programs such as Bridging the Gap, which supplies groceries to students in need in Weber and Davis counties; refugee resettlement; and the new St. Vincent's Kitchen Academy, which trains people as cooks.
This year, the Humanitarian Awards Dinner will present the testimony of one of the graduates of the St. Vincent de Paul Kitchen Academy, who considers that the training was life changing. In addition, four members of the community will be recognized for their outstanding contributions, and one of CCS' volunteers and an employee will be honored.
Judge John Baxter, who held court in the Weigand Homeless Resource Center for years and assisted CCS clients, will be the recipient of this year's Lifetime of Service Award.
Baxter, who recently retired, "started the Homeless Court in Salt Lake, which operated at the Weigand Homeless Resource Center a couple of times a month and gave our homeless friends an opportunity to clear up outstanding charges that oftentimes prevented them from receiving services to turn their lives around," Bosgieter said.
Dee Rowland, who served as the Diocese of Salt Lake City's government liaison from 1985 until her retirement in 2011, and also was director of the diocese's Peace & Justice Commission, will receive the 2022 Humanitarian of Year award.
During Rowland's 25 years serving with the diocese, "she was a strong advocate for those who oftentimes don't have a voice, which included all of the individuals we serve at CCS," Bosgieter said.
Rowland was one of the founders of the Utah Citizens' Council, and "continues her work striving to improve lives in our community by serving on UCC and many other boards and volunteering her time at St. Vincent de Paul Dining Hall," Bosgieter added.
The United Jewish Federation, this year's Partner of the Year, has always been involved with the community, but "last year during the Afghanistan crisis, they decided to step up that support to help support and welcome our newly arrived neighbors," Bosgieter said. "They have created a strong, ongoing partnership with our Migration and Refugee Services programs by making a large cash donation to help CCS provide necessities like housing, phones and case management, raising awareness and committing to volunteering in many different capacities such as youth and family mentors, to help these individuals succeed in their new lives in Utah."
At the dinner, CCS board member Robert Fotheringham and his wife, Kathy Fotheringham, will receive a special recognition.
"The Fotheringhams for many years have been supporters at CCS in many ways," Bosgieter said. "Using their strong connections in the community, they have helped us raise support, awareness, funds and friends."
Bob Fotheringham has served multiple terms on the CCS Board of Directors, and "has been serving as chair of the Community Relations Committee, which assists our staff with many requests," she added. "Bob and Kathy recently agreed to serve a mission with The Church of Jesus Christ of Latter-day Saints in California doing work that closely aligns with our work here."
The Fotheringhams won't be present at Humanitarian Awards Dinner, but Bosgieter said that they wanted to take the opportunity to express their appreciation.
WHAT: 2022 Humanitarian Awards Dinner
WHEN: Monday, Nov. 7, beginning with a 6 p.m. social hour
WHERE: Little America Hotel, 500 S. Main St., SLC
COST: $150 p/p; sponsorship levels available
For tickets or sponsorships, visit https://ccsutah.org/news/2022-humanitarian-dinner