Dental clinic works with Catholic Community Services to provide services to local refugees
Friday, Aug. 26, 2022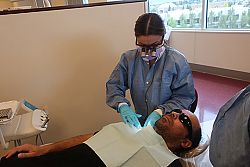 IC photo/Linda Petersen
+ Enlarge
SOUTH JORDAN — More than 150 Catholic Community Services refugee clients have something to smile about thanks to a recent free clinic at Roseman College of Dental Medicine.
On Aug. 19 refugees from several countries, including Afghanistan, Ukraine, Venezuela, Honduras, Sudan and the Democratic Republic of Congo, spent the afternoon receiving free dental exams, cleaning, X-rays and treatment at the college campus.
Roseman College of Dental Medicine reached out to CCS to coordinate the clinic. The event, called Give New Utahns a Smile, was organized by Dr. Ryan Moffat, an associate professor at the dental school. Roseman College of Dental Medicine hopes to provide more services to CCS clients in the future, Moffat said.
The dental needs of the refugee population are great, he said. In Afghanistan, for example there are just 125 dentists for a population of 40 million people, compared to a Utah ratio of one dentist for 1,700 people. With such limited access to dental care, most of the patients have never visited a dentist before.
"We want to provide for them today to get their dental needs taken care of and to establish a dental home, a place where they can come back again and again to have a positive dental experience and to improve oral health," Moffat said.
Roseman College of Dental Medicine is uniquely qualified to do such an event, Moffat said. About 50 percent of Roseman's students are fluent in a second language, so most patients who could not speak English were assigned a student interpreter that day. If the attending student dentist did not speak the patient's native language, an interpreter sat in on the exam and explained the procedures to the patient.
The slots for the clinic filled up quickly and CCS was left with a waiting list of more than 50 people, Alexis Arnold, CCS Health Services supervisor, said.
"These clients don't have dental insurance coverage," she said. "Some of them have never had any dental care at all, so this has been such a huge opportunity for them."
Among those who received dental care that day was Fareed Poya Masouda, a refugee from Afghanistan, and his wife. Masouda worked as an interpreter for the U.S. Army in Kabul prior to its withdrawal from the country.
"It's an incredible help," Masouda said of the dental clinic. "The way I see it is they are taking care of every part of us, whether it is medical concerns, dental – it's incredible."
The Masoudas have three children ages 7, 5 and 3; the family has been in Utah for three months.
"I really appreciate all the people who helped us, who saved our lives," Masouda said. "Now we are really happy, with our kids going to school. My wife is happy and there is no stress anymore and no depression anymore. We're really excited and happy to be here without fear of being threatened, of being killed or tortured."
Follow up services will be provided for free to those refugees who participated in the clinic that day.
"We would love to continue this kind of relationship with this community of refugees," Moffat said. "They are wonderful individuals, and they have a need. We feel like they have a lot to contribute to our community here in Utah. If we can provide them with an opportunity to have a nice-looking smile and good oral health, we feel like that will help these refugees be able to continue to contribute."