Diocese continues to go green with solar panels
Friday, Aug. 06, 2021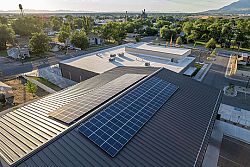 Courtesy photo/Hunt Electric
+ Enlarge
SALT LAKE CITY — Three organizations within the Diocese of Salt Lake City recently installed solar panels on their facilities, helping to reduce their electric bills as well as their environmental impact.
All three projects benefitted from Rocky Mountain Power BlueSky grants. Catholic Community Services received a $106,419 BlueSky grant to install solar panels at a warehouse at its new Ogden location. The 50-kilowatt panels provide power for the warehouse and a new building that houses immigration offices and the Joyce Hansen Hall Food Bank.
At the dedication of the food bank, Rocky Mountain Power representative Kirk Nigro presented CCS officials with a check representing the grant.
"I'm grateful to be here at the harvest of this experience," he said. "Blue Sky harnesses the power of the community in a real challenge of neighbors helping neighbors."
"This project is not only a win for the environment but for the local community, too," said Randy Chappell, CCS basic needs director. "By generating our own electricity, we'll save on energy costs — and that means we can dedicate more of our budget to our core mission of practicing gospel values of love, compassion and hope through service, support and collaboration."
An 80-kw solar array was installed at St. Thomas Aquinas Catholic Church in Hyde Park in October. The system was paid for by a $143,000 BlueSky grant and $50,000 from an anonymous donor. The array is expected to save the parish more than $10,000 per year in energy costs, according to Chris Lucas, former solar projects manager at Synergy Power, the company that installs many of these systems and helped the organizations obtain the grants.
Synergy Power also completed the installation of a 50-kw system at Blessed Sacrament School in Sandy in October. The school received a $107,000 BlueSky grant; donors contributed the remaining $15,000 of the $122,000 project.
"They are worthwhile for the schools because it reduces the costs to operate the schools because it provides solar energy," said Father Sam Dinsdale, Blessed Sacrament pastor. "It is a tool for the kids to learn about renewable energy. It's also about community awareness – education of the parish as well as the school community about renewable energy and the importance of stewardship of the planet."
Fr. Dinsdale speaks from experience; he was pastor at St. Marguerite Parish in 2016 when the school there in Tooele installed solar panels.
"Both programs encourage the kids and parishioners to recycle, to use resources wisely, to ultimately reduce the cost to the parish so that we can continue with the school ministries," he said.
In addition to these three entities, St Joseph High School in Ogden, St. Joseph the Worker Catholic Church in West Jordan and St. Thomas More Catholic Church in Cottonwood Heights previously received Blue Sky grants and have installed solar panels.
Blue Sky is a Rocky Mountain Power project that allows users to replace some of their traditional power with renewable power. The project provides grants to many nonprofit organizations.