Diosdado Calderon Hernandez
Friday, Aug. 02, 2019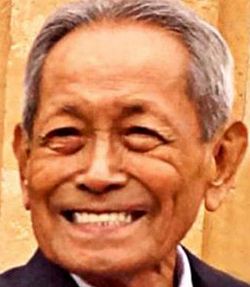 Courtesy photo
+ Enlarge
July 20, 1930 ~ July 13, 2019
Surrounded by the love of his family, Diosdado Calderon Hernandez peacefully left this world to join his wife, Amelia, on July 13, 2019. He did everything possible to try and pull off another miracle, but his body could not outlast his spirit this time. His last days were a testament to the way he lived his life. He did it with courage, grace and humor, making sure that every member of his family knew how much he loved and cared for each of them.
Born July 20, 1930, in Santa Rosa, Nueva Ecija, Philippines, he was the second of nine children born to Agapito and Jovita Calderon Hernandez. At the age of 13, he joined his father to fight for his country with the United States during the occupation of the islands by the Japanese. For this act of courage he was granted immediate U.S. citizenship shortly after arriving in the U.S. from Metro Manila in the early 1970s with his wife and seven children: Honor (Arnstein), Imelda (Armstrong), Iraida (Pisano), Alejandro, Florian (Hernandez Parcell), Florinda (Zeuthen) and Ronald. Together with Amelia, they persevered and beat the odds, ultimately enjoying a comfortable life, for which they were endlessly grateful.
Having held many positions that utilized his quick mind and love of electronics, he eventually retired from Hill Air Force Base in 1992. He was a resident of Ogden, and lived most recently in a home he and his wife lovingly built and lived in together for more than 30 years. He was a member of the Catholic Church and belonged to St. James the Just Parish. He enjoyed fishing with his friends, gardening with his wife, watching "Patton" whenever it aired, and cheering for the New England Patriots; but most of all he loved the cacophony of laughter and noise his family made when they were together. He also spent time helping the less fortunate through Philippines Humanitarian, an organization his wife started to help indigent children in the Philippines.
In the end, it was his large heart that disabled him, but it was also what defined the way he lived his life - with a heart that was larger than life and full of love for his family. He will be missed and remembered eternally by his children, their spouses, his grandchildren, great-grandchildren, surviving sisters, many family members and countless friends.
A funeral Mass was celebrated at St. James the Just Catholic Church on July 19, 2019, followed by interment at Evergreen Memorial Park.