Archbishop Niederauer dies
Friday, Apr. 28, 2017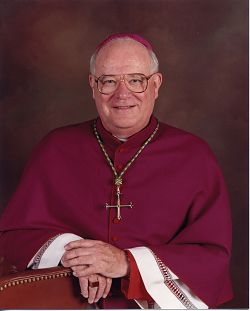 + Enlarge
The Most Rev. George H. Niederauer, archbishop emeritus of San Francisco and eighth Bishop of Salt Lake City, died at the Nazareth House of San Rafael Nursing Home on May 2 of pulmonary fibrosis.
"We are deeply grieved to learn of the death of Archbishop George H. Niederauer," the Most Rev. Oscar A. Solis, Bishop of Salt Lake City, said in a statement. "He was a great churchman, accepting each position he was given with humility and generosity.
"During the 11 years he was bishop of Salt Lake City, he was known for his kindness, ecumenical spirit and embrace for the least important of the community," Bishop Solis continued. "Each individual was a child of God for him, regardless of their human situation. In his early years he earned a doctorate in English literature and taught English and theology at Saint John's Seminary in southern California. His excellent homilies and love for films reflected that literary gift that was his. During his time in Utah he oversaw the building of the Skaggs Catholic Center as well as the expansion of missions and parishes. Archbishop Niederauer was greatly loved and left his imprint throughout the diocese."
The funeral Mass for the archbishop will be Friday, May 12 at 11 a.m. at Saint Mary Cathedral in San Francisco.