Holiday Giving Drives: Utah Knights of Columbus
Friday, Nov. 03, 2023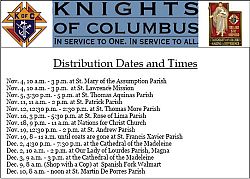 Intermountain Catholic
Photo 1 of 2
As the holiday season approaches, Catholic organizations in Utah are working to provide food and gifts to those most in need. All people of good will are asked to prayerfully considering donating to such efforts. As Christ said, "Give to the one who asks of you, and do not turn your back on one who wants to borrow." (Mt 5:42)
UTAH — Every year for more than a decade, the Utah Knights of Columbus have sought the community's help to make their annual Coats for Kids program a success. The Knights collect new coats and, when available, other warm winter gear that is then given to children in need throughout the state.
"This is one of the Knights' biggest programs of the year, financially, in impact, and time volunteered," said Andy Airriess, supreme convention delegate, because the Knights "recognize that the number one reason kids miss school in the winter is they lack a warm coat to get to and from school safely."
While the coats offer comfort, the program itself also benefits the children educationally and for their future success, he said.
This year the Knights expect to distribute 6,200 new winter coats through their various councils in Utah.
"We want every child in the state of Utah that needs a coat to have a new coat to wear during the cold winter months," said Bob Masse, Jr., chairman of the Utah State Coats for Kids.
Helping those most in need is important because "the economy is hurting now, which makes our efforts even more important. In such economies, the poor are hardest hit," Airriess said, adding that with the "increased influx of migrants and refugees, many of whom will be experiencing their first Utah winter, our efforts to put warm coats on kids is more important than ever."
The efforts of the Knights of Columbus in Utah is part of a national effort in which the fraternal Catholic organization will distribute more than 180,000 brand new winter coats across the country. In 2010 in the first Utah distribution, the Knights of Columbus provided 300 coats. "We thought that was a lot then, now we are 20 times that," Airriess said.
Distribution dates and times
Nov. 4, 10 a.m. - 3 p.m. at St. Mary of the Assumption Parish
Nov. 4, 10 a.m. - 3 p.m. at St. Lawrence Mission
Nov. 5, 3:30 - 5 p.m. at St. Thomas Aquinas Parish
Nov. 11, 11 a.m. - 2 p.m. at St. Patrick Parish
Nov. 12,12:30 p.m. to 2:30 p.m. at St. Thomas More Parish
Nov. 16, 3 - 5:30 p.m. at St. Rose of Lima Parish
Nov. 18, 9 - 11 a.m. at Nations for Christ Church
Nov. 19, 12:30 - 2 p.m. at St. Andrew Parish
Nov. 19, 8 - 11 a.m. until coats are gone at St. Francis Xavier Parish
Dec. 2, 4:30 - 7:30 p.m. at the Cathedral of the Madeleine
Dec. 2, 10 a.m. - 2 p.m. at Our Lady of Lourdes Parish, Magna
Dec. 3, 9 a.m. - 3 p.m. at the Cathedral of the Madeleine
Dec. 9, 8 a.m. (Shop with a Cop) at Spanish Fork Walmart
Dec. 10, 8 a.m. - 12 p.m. at St. Martin De Porres Parish