Three priests retire/Father John Norman
Friday, Jun. 24, 2022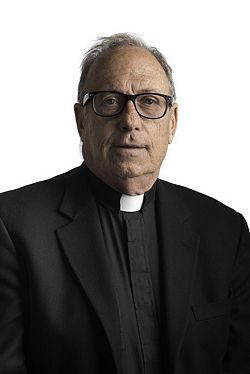 IC file photo
Photo 1 of 2
Father John Norman
HOLLADAY — As he contemplates his service in the Diocese of Salt Lake City over the past 43 years, Father John Norman, who is retiring at the end of July, has nothing but good thoughts, he said.
Fr. Norman was ordained a priest Sept. 7, 1979, by the Most Rev. Joseph Lennox Federal, sixth Bishop of the Diocese of Salt Lake City, at the Cathedral of the Madeleine. He was immediately assigned to serve as a teacher at Judge Memorial Catholic High School.
It was an unexpected assignment, he said. "I wanted to be off working in a parish and doing that work, and I wouldn't have chosen it. I never would have chosen that myself, but it turned out to be a wonderful thing."
In his youth, Fr. Norman was a student at Judge. Following high school, he attended Mount Angel Seminary in Saint Benedict, Ore., and then completed advanced studies in theology at the Pontifical Gregorian University in Rome, before being ordained to the Diocese of Salt Lake City.
After 10 years as a teacher at Judge, he served as principal at Saint Joseph Catholic High School in Ogden from 1989 to 1997. He went on to teach at Juan Diego Catholic High School from 2004 to 2008. From 1997to 2004 he served as president of Judge. In 2013 he received the Christ the Teacher Award from Utah Catholic Schools for his many years of service in those schools.
During his years in Catholic education Fr. Norman always helped whenever he was needed at parishes, especially those where he was in residence. He continued in education until 2004, when he was assigned to Our Lady of Lourdes Parish in Magna, where he served as pastor for four years. Since 2011 he has been the pastor at St Vincent de Paul Catholic Church, which had been his home parish when his family moved to Salt Lake City from Logan in 1968.
He has continued to promote education in his parish by offering lectures and movie series to help teach his flock the faith.
"It's a major ministry of the Church and it's a major responsibility of being a priest, that we're to sanctify, and govern and teach and preach," he said. "I believe it's nothing other than we're supposed to be doing."
As he looks back, Fr. Norman remembers the many people he has served alongside in the work.
"I've considered it an honor working with people in the diocese," he said, "especially the faculty at St. Joseph schools in Ogden; they are very dedicated. I've spent quite a bit of time working with people whose dedication often goes unnoticed."
In August, Fr. Norman will move to Las Cruces. N.M., where he hopes to be able to be of service, he said. While he will have no formal assignments, there are "lots of opportunities for acts of charity, perhaps helping and assisting with the issues at the border regarding the dignity of life and all opportunities for helping others."
He is looking forward to the temperate climate and having the opportunity to stable his horse nearby. In his free time, he hopes to read books, write articles, "think about things I've never had the time to," listen to music and walk his dog. "I'm going to breathe deeply," he said.
Fr. Norman leaves his parishioners and his friends in the diocese with the admonition of Paul in his letter to the Ephesians (Paul 6:18) to pray always for one another. "We're called to pray for one another so that we know the full extent of God's love," he said. "I pray that we all learn to appreciate the fullness of God's love for us."
The parish plans a farewell party for Fr. Norman on July 15.
WHAT: Farewell for Fr. John Norman
WHEN: July 15, 6-8 p.m.
WHERE: Holy Family Hall, St. Vincent de Paul Catholic Church, 1375 E. Spring Lane, Holladay