New homeless shelter/soup kitchen opens in Ogden
Friday, Jun. 12, 2015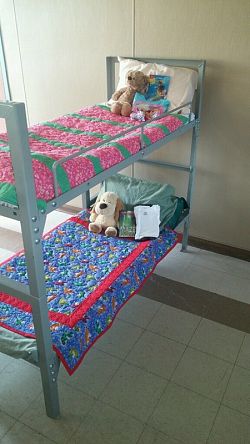 Intermountain Catholic
+ Enlarge
OGDEN — After five years of fundraising and a year of construction, the Lantern House in Ogden will open June 16.
The five-acre, two-story facility located at 137 W. Blinford Ave. in Ogden replaces the homeless shelter and soup kitchen known as St. Anne's Center, which for 30 years has provided food and shelter to the poor, needy and homeless. The new facility includes a kitchen/dining room that can seat 220 people, separate dormitories for men and women and 14 family rooms, as well as a playground.
"We were able to raise the money, so we are ready to cut the ribbon on June 16," said Kay Lipman, who together with her husband, Allan Lipman, were the volunteer chairpersons for the capital campaign.
The Lipmans had a goal of raising $7 million for the project and slightly exceeded that amount.
"We are very appreciative of all the support and contributions we received," said Allan Lipman.
"It meant that other people also care for the homeless," added Kay Lipman. "They have been very generous."
The capital campaign was launched with a $1.5 million donation from The Church of Jesus Christ of Latter-day Saints. Since then, the Lipmans worked to raise funds to meet a $1 million matching grant from the George S. and Dolores Dore Eccles Foundation. Other major funding came from the State of Utah, while Ogden City donated the land for the new facility.
The Lipmans also are grateful to the Catholic Diocese of Salt Lake City and to Monsignor J. Terrence Fitzgerald, vicar general emeritus, in particular, for their support of the project.
"We have known Msgr. Fitz since many, many years ago," said Allan Lipman; his mother was one of the first social workers of Catholic Community Services, and was hired by Msgr. Fitzgerald.
"And that's where our line of helping others came from," said Allan Lipman.
"If we continue to help the homeless to get on their feet, they will be better people in society," added Kay Lipman.
The Lantern House/St. Ann also plans to have a pet playground and kennel, but those have not yet been built.
"We think that is very important and a necessary part of this new facility because some, if not most, of the single homeless people have pets, and they are like their families," said Kay Lipman.
In 2012, 136 families stayed at St. Anne's for an average of 24 days; on an average night two to three families sleep on mats in the dining hall.
"With this new facility this will change a bit. We think that the homeless should be treated with dignity," said Kay Lipman.
Donations to the Lantern House/St. Ann's Center are still being accepted; call 801-621-5036 or visit www.StAnnesCenter.org.
"We want the entire community to help the homeless. We have many volunteers that help us, but we can always use more money and more help," said Kay Lipman.
WHAT: Lantern House grand opening
WHEN: Tuesday, June 16, 11 a.m.
WHERE: 137 W. Binford Ave., Ogden