New principal Christine Bergquist
Friday, Aug. 17, 2012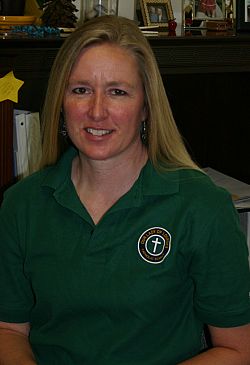 Intermountain Catholic
+ Enlarge
SALT LAKE CITY — Christine "Tina" Bergquist has accepted the position of principal at Our Lady of Lourdes School in Salt Lake City, replacing Louise Herman, who has moved to take the helm of Saint Andrew Catholic School in Riverton.
Bergquist became vice-principal of Our Lady of Lourdes School in 2005, while remaining the third grade teacher.
"I was in the classroom all day, and when Louise became the principal of the school in 2008, it was easy because she was so organized," said Bergquist. "I learned leadership skills from her and how to handle pressure calmly; I'm stepping into some really good shoes."
Herman agreed she and Bergquist worked well together and had similar philosophies about the way things should be done at the school. "I was very confident when I knew she was taking over because I knew things would continue that we had started. We consulted each other when decisions were made. She'll have her own ideas, but I know that things will only move forward," she said.
Holy Cross Sister Catherine Kamphaus, superintendant of Utah Catholic Schools, is happy Bergquist has accepted the principal position, she said. "She has a lot of enthusiasm and energy, she is young and new, and she is willing to take on the responsibilities," Sr. Catherine said. "Louise Herman will continue to be her mentor and we are confident in her ability to lead the school and continue with the long traditions it has had."
Bergquist will have to adjust to being out of the classroom after 12 years, she said. "I will actually be more involved with the students this way, I just won't be involved in classroom instruction," she said.
Bergquist wants to learn her position first before making any changes, she said. "Louise left the school in really good shape and I'm just going to keep going in the same direction with what she had in place." She will receive a master's degree in education in the next three years.
Bergquist grew up in West Valley City, a graduate of Granger High School. She received a bachelor's degree from the University of Utah in psychology and wanted to start a family when she graduated. So when she graduated in 1991, she opened the day care center for the faculty and staff at Judge Memorial Catholic High School.
"My two sons were in the day care and then went to school at Our Lady of Lourdes," said Bergquist. "I fell in love with Lourdes School and after my youngest son completed kindergarten in 2000, I became a co-kindergarten teacher with Karen Wilde. She really was my inspiration to get into teaching. During that time, the fifth-grade teacher was moving to California and I was assigned to teach the fifth-grade class. I fell in love with teaching and how the kids caught on."
In 2003, Bergquist became the third grade teacher and taught for nine years. "I knew when I was in the third grade that I wanted to be a teacher; it's serendipitous that I taught third grade," she said. "Through time I changed my major, but I came back to being a teacher. It has been such a wonderful experience."
"I was raised in the public school system and I knew that I wanted a really good education for my sons and that they would receive a well-rounded education in the Catholic school system," Bergquist said. "Both of my sons are graduates of Judge Memorial Catholic High School. I wanted them to have that element of being able to talk about religion and talk about God because I know that it is a part of everything we do."