Pastor Assignments Take Effect July 28: Fr. David Trujillo
Friday, Jul. 23, 2021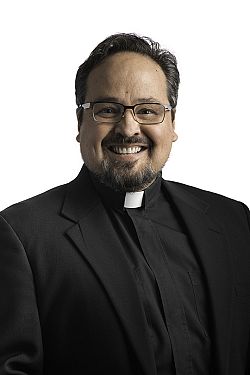 Diocese of Salt Lake City
+ Enlarge
On July 28, 10 priests in the Diocese of Salt Lake City will assume their duties as either pastor or administrator of a parish, or as chaplain, to which they have been newly assigned. Following are brief profiles of five of these priests; profiles of the other five were published in the July 9 Intermountain Catholic:
Fr. David Trujillo
Fr. David Trujillo, born in Murray, was baptized at Immaculate Conception Parish in Copperton and grew up in the Salt Lake Valley. He attended daily Mass with his mother, and first heard a call to the priesthood at the age of 14. He entered Mt. Angel Seminary in 2009, and was ordained a priest on June 26, 2015 at the Cathedral of the Madeleine by the Most Rev. John C. Wester, Archbishop of Santa Fe and ninth Bishop of Salt Lake City.
Following ordination, he served as parochial vicar at St. Joseph Catholic Church (Ogden) and St. Thomas More Parish, and assisted at Blessed Sacrament Parish. In 2016 he was assigned to Immaculate Conception Parish; he also has served as chaplain at the Carmel of the Immaculate Heart of Mary and St. Joseph Villa. On July 28 he will begin serving as pastor of St. James the Just Parish in Ogden.
What would you like your new parishioners to know about you?
Regarding myself, I would like parishioners to know that I am a dynamic human who has lived a full civilian life prior to my discernment and in becoming a priest. I am grateful for the decades of corporate training, corporate retail work and the performing arts that have taught me the value of connecting with the diverse populations I serve. I'm happy to say that I have worked with some of the best people in the industry. Respectful, open and reliable communication is essential in building relationships with a foundation of trust and vision. I look forward to bringing these important lessons to my new community along with a good sense of humor and creativity as we grow as a parish, together.
What are you looking forward to most about your new assignment?
The opportunities I am most looking forward to in my new assignment is the opportunity of a fresh start. Transitions are always a challenge, but I look forward to a fresh start for myself and for the parishioners. I feel truly blessed to have served our aging at St. Joseph Villa, and my ever-so-helpful community at Immaculate Conception. This opportunity afforded me the gifts of sincere human connection, leadership in a vulnerable and nurturing environment, acceptance and value of the spectrum of personalities under one roof at the Villa, growth as a priest through COVID-19, lessons in wisdom shared by our senior population, while simultaneously developing unforgettable deep and meaningful relationships. The numerous life experiences shared with me resonate in my heart, and will continue to do so throughout my spiritual formation for years to come. I am honored to have served the residents of the Villa, but especially our aging clergy, the Trappist monks and women of the cloth.
As a priest, what has been your greatest challenge?
As a priest, my greatest challenge cannot be measured by a single situation, personality, misdeed, intention or misunderstanding. Each day is unique and full of interruptions. I feel blessed to have the ability to adjust to various situations quickly, and multiple times throughout the day. Each encounter with an individual or family has the potential to be unpredictable. Perhaps the greatest challenge has been recognizing the need for balance and enforcing boundaries as Jesus taught.
As a priest, what has been your most satisfying experience?
As a Roman Catholic priest, the most satisfying experience is reflecting on the various experiences throughout my ministry and in retrospect, recognizing God's guidance. These moments of discernment are reinforcing and serve as validation that I am where I am supposed to be.
"I thank the God who loves me. ... He puts adventures in my way." – Don Quixote