Sept. 28-Oct. 5
Friday, Oct. 03, 2014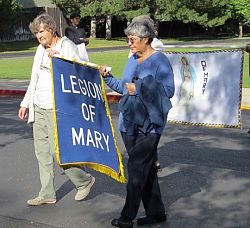 Intermountain Catholic
Photo 1 of 3
Celebrating Mary: On Sept. 28 I joined hundreds of parishioners from throughout the diocese for the International Marian Celebration at Saint Thomas More Parish in Sandy. It was striking to see the many cultures represented in our diocese, and fulfilling to see the devotion to Our Lady in her many manifestations.
Dinner with the Dominicans: On Oct. 3 I had dinner with our wonderful Dominicans at Saint Catherine of Siena Newman Center, and had a special treat: Father Timothy Radcliffe, OP was a fellow guest. I had a most enjoyable evening. Fr. Timothy is a prominent and gifted churchman who will speak Friday at Saint Vincent de Paul Parish here in Salt Lake City.
Blessings at St. Francis of Assisi Parish: I was honored to help parishioners of Saint Francis of Assisi in Orem celebrated their patron's feast day first by blessing the pets that they brought to the church. Then we moved indoors, where they had recently installed a series of nine murals depicting the life of Christ Jesus. It is a beautiful church that opened two years ago, and I am thankful to all who contributed to its construction.
Carbon County visit: After praying at St. Francis of Assisi Parish on Oct. 4, I joined parishioners of Saint Anthony of Padua in Helper, Good Shepherd in East Carbon City, Saint Helen's in Roosevelt and Notre Dame de Lourdes in Price as well as the greater community in the area at their Octoberfest. In addition to celebrating Mass, I enjoyed the food and games such as Bingo, as well as visiting with many of the people there. The next day, Sunday, we celebrated the Catholics Can Mass at Notre Dame de Lourdes Parish, at which we honored Danny Marjis and Mickey Adelhardt. Danny and Mickey are inspiring examples of people with disabilities who are strong witnesses to the Catholic faith.