Sister Kathleen Moroney Legal Service Award luncheon is open to all the community
Friday, May. 18, 2018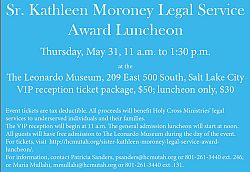 Intermountain Catholic
+ Enlarge
SALT LAKE CITY— Holy Cross Ministries of Utah is hosting the Sister Kathleen Moroney Legal Service Award luncheon to celebrate and recognize "instrumental individuals in the legal community who share HCM's vision for just, compassionate, sustainable, and inclusive communities," according to the invitation to the event.
At the luncheon, which will take place May 31 at The Leonardo Museum in Salt Lake City, immigration legal service providers will be recognized with the Philanthropic Firm of the Year, the Innovative Agency of the Year and the Moroney Legal Service Award.
On Sept. 25, 2000 Holy Cross Sister Kathleen Moroney, J.D., established a legal immigration services program to provide low-cost legal services to immigrants in Utah. She retired last year, and this year, in her honor, the Sr. Kathleen Moroney Legal Service Award Luncheon was created.
"HCM opened a public vote for the nominations in each category [of the awards]," said Patricia Sanders, director of Development and Communications at Holy Cross Ministries.
An award committee selected the winners out of the nominations for each of the categories.
"It was hard to select just one awardee for each category; there is so much incredible work happening and all are very deserving," Sanders said.
The recipients of the 2018 Sr. Kathleen Moroney Legal Service awards follow.
Philanthropic Firm of the Year Award: Gonzalez Law, USA
Innovative Agency of the Year Award: Comunidades Unidas/Communities United
Moroney Legal Service Award: Alyssa Williams, attorney and immigration program manager of Catholic Community Services of Utah
"The luncheon will recognize them because they are continuing to do work that reflects Sr. Kathleen's mission; their contributions have been incredible to the community," Sanders said.
Everyone is invited to attend the luncheon and celebrate these organizations.
"The importance of celebrating them all together is because now more than ever it is important to celebrate the work that happens in these organizations and people; there are a lot of needs in our communities," Sanders said. "It's really on us to collaborate and make the effort that we need to do for the good of the community."
The Legal Immigration Program of Holy Cross Ministries operates Utah's first and largest U-Visa program for victims of crime. They have helped more than 10,000 men, women and children gain legal status since its inception.
WHAT: Sr. Kathleen Moroney Legal Service Award Luncheon
WHEN: Thursday, May 31, 11 a.m. to 1:30 p.m.
WHERE: The Leonardo Museum, 209 East 500 South, Salt Lake City
COST: VIP reception ticket package, $50; luncheon only, $30. Event tickets are tax deductible and all proceeds will benefit Holy Cross Ministries' legal services to underserved individuals and their families.
The VIP reception will begin at 11 a.m. The general admission luncheon will start at noon. All guests will have free admission to The Leonardo Museum during the day of the event.
For tickets, visit http://hcmutah.org/sister-kathleen-moroney-legal-service-award-luncheon/.
For information, contact Patricia Sanders, psanders@hcmutah.org or 801-261-3440 ext. 246; or Maria Mullahi, mmullahi@hcmutah.org or 801-261-3440 ext .131.