SJCES teachers find ways to make math interesting, enjoyable
Friday, Feb. 05, 2021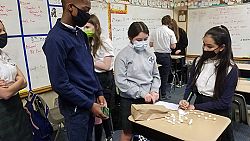 Courtesy photo/St. Joseph Elementary School
+ Enlarge
Kim Miller
OGDEN — Saint Joseph Catholic School math teachers Danielle Randall and Rick Kelson both have found cutting-edge ways to make math interesting and enjoyable for the students they teach.
Randall has been teaching math at St. Joseph for four years and is in her second year of teaching honors math. "I taught high school before this and it has really made me a better middle-school teacher," she said. "I know exactly what sorts of mistakes they are prone to make in high-school math and can teach in a way now that prevents those mistakes later."
With a bachelor's degree in metallurgical engineering, she worked in industry before getting her master's degree in education. "I love using my engineering background to encourage problem-solving skills and help students realize how all the concepts we are learning fit together," she said.
Kelson, who has been teaching for nine years, spent six years in the Murray School District as a teacher and vice principal before entering the Catholic school system. He taught for two years at St. Olaf Catholic School before joining the SJCES family at the start of the 2020-21 school year.
The SJCES math program is built around common core and represents knowledge learned through many formats, not just tests, Kelson said. "Our curriculum is heavily supported by real-world experiences and practices. Students leave our math program with an understanding of how their knowledge relates and works in real life. Our math program doesn't just teach the whys behind math concepts. We know how to check the reasonableness of an answer to what the question is asking. Our students receive a challenging and engaging math program at our school."
A good day at school is when "students are engaged and active," Randall said. "We are moving and thinking out loud. I love to hear students working together and arguing to justify their thinking and their answers."
Kelson echoed that sentiment. "A good day at school revolves around students learning and being engaged," he said. "When students are actively engaged in their learning of math, they are far more confident in their understanding of the 'whys' behind the concepts. You then see their understanding showcase itself when doing projects or activities that represent their knowledge outside of the standard testing (STEM activities, real-world projects, etc.)."
Kelson has received much positive feedback this year from parents and students, which fills him with pride. In the past, some students and parents have expressed struggles with math, but this year students are loving math, and for some it is their favorite subject.
"Even during this trying year of teaching in a pandemic, seeing kids happy to come learn in math has been my favorite accomplishment," he said.
In this unusual year, Randall has focused on making sure that technology is elevating her teaching, not just replacing paper and pencil assignments. When used well, technology can open a lot of possibilities for students, she said. For example, students can easily play with graphs and geometry principles on a computer, which can make it easier to find patterns and get an intuitive feel for what is happening.
Kelson agreed that technology opens a lot of doors and experiences; online programs like IXL and Moby Max allow students to review concepts to challenge themselves, he said, adding that technology has been a great tool for teaching students through distance learning.
"We can still interact and have those connections when working through an assignment or project," he said.
To keep students engaged, Kelson incorporates STEM activities on Wednesdays so that they can apply math concepts into a science, technology and engineering activity like building race boats, catapults and suspension bridges. He also used a classroom economy to reinforce math concepts through financial literacy.
SJCES Principal Nancy Essay has nothing but praise for the school's dynamic math duo. "These teachers go above and beyond for their students," she said. "They give time outside of class to ensure the success of each and every student."
Kim Miller is director of advancement for St. Joseph Elementary School.