St. Olaf Students Honored at Awards Banquet for Placing Third in Utah in the Stock Market Game
Friday, Jan. 26, 2018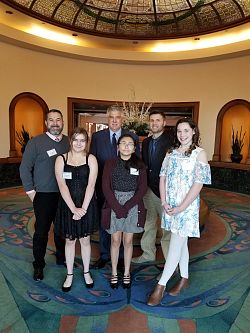 Courtesy of St. Olaf Catholic School
+ Enlarge
Led by St. Olaf Catholic School math teacher Mr. Rick Kelson, St. Olaf Middle School students played The SIFMA Foundation's Stock Market Game (stockmarketgame.org), an instructional tool used to teach kids how to invest as well has get them engaged in financial literacy and math.
The SIFMA Foundation is "an independent 501(c)3 educational organization dedicated to fostering knowledge of the financial markets, serving 16 million students since 1977," according to stockmarketgame.org.
For the game, students are given $100,000 of fake money to invest in real stocks over a 10-week period. In Utah, the top three money-making teams are honored at an awards banquet.
St. Olaf 7th-graders Sophia Wheelton, Kirsten Robbins and Anezka Gomez's team placed third out of 366 teams in the Middle School/Junior High Division for the entire state of Utah. They placed 5th overall in the entire state, including all of the junior high and elementary teams (a total of 1,234 teams).
As a reward, the girls attended the awards banquet at the Joseph Smith Memorial Building in Salt Lake City hosted by the Utah Division of Securities.
In their acceptance speech, Sophia, Kirsten, and Anezka noted that one of the best experiences of playing the game was learning how to better communicate as a team and how to make team decisions dealing with finances. They enjoyed learning how to read and interpret statistics and logging onto the site to see their daily rankings and to check how their portfolios were doing.
Mr. Kelson says that all of his students love playing The Stock Market Game and that it opens the door for some great discussion on real life goals and plans.
Courtesy of St. Olaf Catholic School