Three priests retire/Father Clarence Sandoval
Friday, Jun. 24, 2022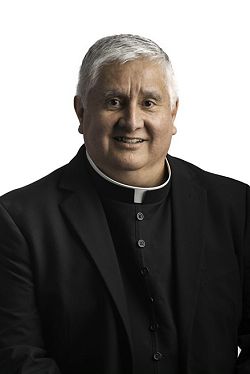 IC file photo
Photo 1 of 2
LAYTON— After 35 years of service in the Diocese of Salt Lake City, Father Clarence Sandoval is set to retire.
Born in San Luis, Colo., Fr. Sandoval moved with his family to Stockton, Utah, when he was very young.
After graduating from high school, he volunteered for a two-year tour in the U.S. Army, and was sent to Korea. He was honorably discharged, then went on to receive bachelor's degrees in education and psychology from Utah State University. In 1979 he joined the Peace Corps, a program of the United States government that trains volunteers to provide international development assistance. During his two years as a Peace Corps volunteer, he began considering his vocation to the priesthood.
Fr. Sandoval was ordained on Aug. 21, 1987 in the Cathedral of the Madeleine by Bishop William K. Weigand, seventh Bishop of Salt Lake City. His first assignment was as parochial vicar at Notre Dame of Lourdes Parish in Price, where he stayed for two years. That was followed by a six-year assignment as pastor of St. Elizabeth Parish in Sevier County and St. Jude Mission in Ephraim.
Then, for more than a decade, Fr. Sandoval served as pastor at St. Thomas Aquinas Parish in Logan. In 2011 he was assigned as pastor of St. Rose of Lima Parish in Layton, the position from which he will be retiring.
During his ministry, one of the most impactful experiences that Fr. Sandoval faced was the raid in 2006 by federal immigration authorities at the meat processing plant in Logan owned by Swift & Co. Many of the 147 people who were charged, and later deported, were parishioners of St. Thomas Aquinas, where Fr. Sandoval was pastor at the time.
To help parishioners who were affected by the raids, Fr. Sandoval organized collections for the families.
That same year Fr. Sandoval dedicated the new church for St. Thomas Aquinas Parish. The new building was needed because of the growth of the Catholic community. Fr. Sandoval spent three years raising funds for the new church, which was built in Hyde Park rather than at the prior site in Logan.
Deacon Bernardo Villar, who serves at St. Rose of Lima Parish, said that he admires Fr. Sandoval and is grateful for his service and guidance during all those years.
"I learned from him that there is a difference between what is from God and what is from man. … God has a plan and has given us the Gospel to guide us," Deacon Villar said about the teachings that he has received from Fr. Sandoval.
He also appreciates the priest's friendship. The day that he was ordained as a deacon, Fr. Sandoval "made me feel very welcome. He gave me a wonderful gift of very nice stoles," the deacon said, adding that Fr. Sandoval also helped him understand the importance of his vocation and been a good teacher.
"One day I made a mistake in the reading and Fr. Sandoval very kindly approached me and helped me – no reproaches, no scolding; he just went back to his seat without saying any other word," Deacon Villar said.
Deacon Villar said he will always be thankful to Fr. Sandoval for his guidance and the many opportunities for growth. "Father also taught me that it is very important to get to know your community and their needs," he said.
Fr. Sandoval has always recognized the importance of building community, said Kevin Cummings, director of St. Rose of Lima Parish's Christian formation program.
WHAT: Fr. Clarence Sandoval retirement celebration
WHEN: Aug. 20, 6:30 p.m. - 8:30 p.m.
WHERE: St. Rose of Lima Catholic Church, 210 S. Chapel St. Layton
Everyone is welcome.